Level Magic™ processor
Please note: this product was already discontinued (EOL) and is not available any more.
The C8086+ is a loudness management solution maintaining consistent program loudness with highest audio quality while applying loudness processing. Jünger Audio's renowned Level Magic™ loudness management algorithm ensures the smoothest loudness processing available. With over 2.000 solutions installed this is the most popular loudness management tool in our current portfolio. Equipped with extensive external control features the 8086+ solution allows for intelligent integration in playout automation systems to build a fully automated operation applying individual processing from content to content.
The C8086+ is a 8 channel loudness processing solution providing Jünger Audio's renowned Level Magic™ algorithm to maintain consistent loudness levels precisely on target regardless of the content's source. Jünger Audio's adaptive wide band loudness algorithm guarantees for the highest audio quality in audio processing available today. Even in applying heavy processing to a source way off target level the algorithm adds no pumping, breathing, distortion or any other processing artefacts you might expect for any other processing tool available. C8086+ is the ideal tool to get audio under control because of: - Its transparent processing, which only manages dynamics but doesn't "colour" or manipulate the audio contents. - Its easy operation requiring only 5 minutes setting up the device and its parameters. Truly set & forget - The adaptive and automated control of all incoming audio sources. - The possibility to make your users evolve, as you can select the processing modes (fully automated or manual; hard, mid a soft processing or just True peak limiter!). This offers the possibility of gradually "decrease" the use of processing along with your operators improvement in producing loudness conform contents. - The numerous possibilities of automating the process (events) and external control by third party devices through various protocols (Ember+™, SNMP, GPI, etc…)
Key Features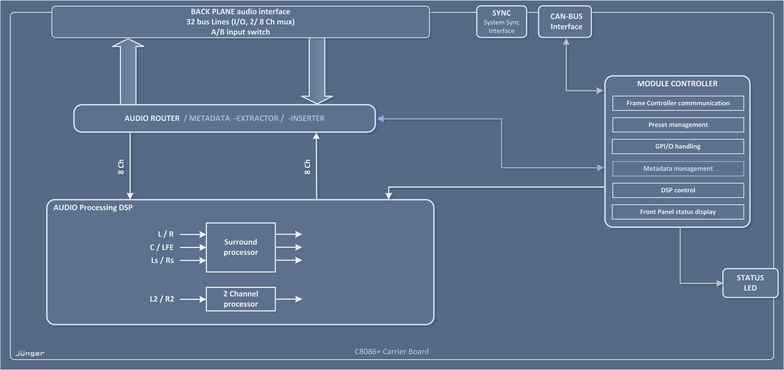 8ch Level Magic™ Processor for processing of two or four independent Programs (5.1+2 or 4x2) or up to eight mono Channels
Level Magic™ Loudness Management for up to 16ch according to: ITU-BS.1770 (all revisions), EBU R128, ATSC A/85, ARIB TR-B32, Free TV OP-59 and Portaria 354
Expander / Compressor / Delay
Brick Wall True Peak Limiters
Automatic 2ch Bit Transparent Mode
Surround Downmix
Versions & Options
License C8086 Dolby® metadata generator
Applications
All Jünger Loudness control devices from all product lines share a neat feature: The gathered measurement data is made available for downstream measurement applications via Ethernet. Learn more about at SOFTWARE APPLICATIONS.
Changelog 2.10.19.42350 (2017-08-31):

Changes 2.10.19.42350:

Fixed integration range issue in Log Analyzer

Changes 2.10.18.41937:

Fixed parameter inconsistencies occurred while network interruptions
Added support for C8492 PM5 and C8092 PM5
Added support for C8702 logger version 6

Changes 2.10.10.40638:

Added support for V*AP v2.0.1