5.1 Upmix
Please note: this product was already discontinued (EOL) and is not available any more.
The C8087 upmix solution provides high quality automated upmix from a stereo or mono source. The C8087 is ideally combined with the C8086 Level Magic Loudness Normalizer to achieve both Upmixing and Loudness control within the same system.
The C8087 uses an input format detector permanently detecting the type of source signal. If the device detects stereo sources, an automatic 5.1 upmix will be performed. In case a mono track is detected, a permanent Upmix will be provided transfering the mono source into C and L, R. in case a valid 5.1 signal is detected an automatic cross fade between upmixed signal and the surround source is performed.
The core idea is to perform upmixing (from stereo or mono sources) until a valid 5.1 source is detected, guaranteeing a permanent surround feed.
The module comes with 5 selectable factory basic settings covering most of the broadcast industrie's needs in terms of upmixing types. Furthermore 8 user presets for parameter recall allow for customisation of ones parameters.
C8087 is a module designed for the C8000 modular system . I/O's are provided in the desired format through the C8000 modular processing platform.
Configuration and operation are performed via web interface. Remote control via GPI or through 3rd Party Devices (through open Ember protocol).
Key Features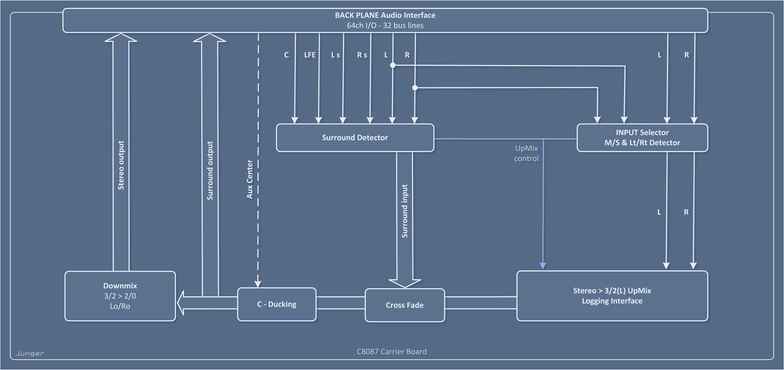 Automatic Mono or Stereo Upmix to 5.1
Auto Signal Detection of Mono, Stereo, Surround
Automatic Cross Fade between Upmix and Original Surround if present
2.0 Downmix
Permanent upmix from Stereo input
User-friendly Preset and Recall Functions
Remote Control via C8702 Frame Controller, GPI/O or tcp/IP based API