High Density Board (Legacy)
Please note: this product was already discontinued (EOL) and is not available any more.
The heart for all high density systems is the C8491 SDI/DSP board. It combines SDI embedding and deembedding capabilities with DSP processing functionality in one single module.
This new module combines powerful compact processing with an efficiency and flexibility never seen before. Designed for extreme compact multi-stream systems these modules will add the following features in one single module: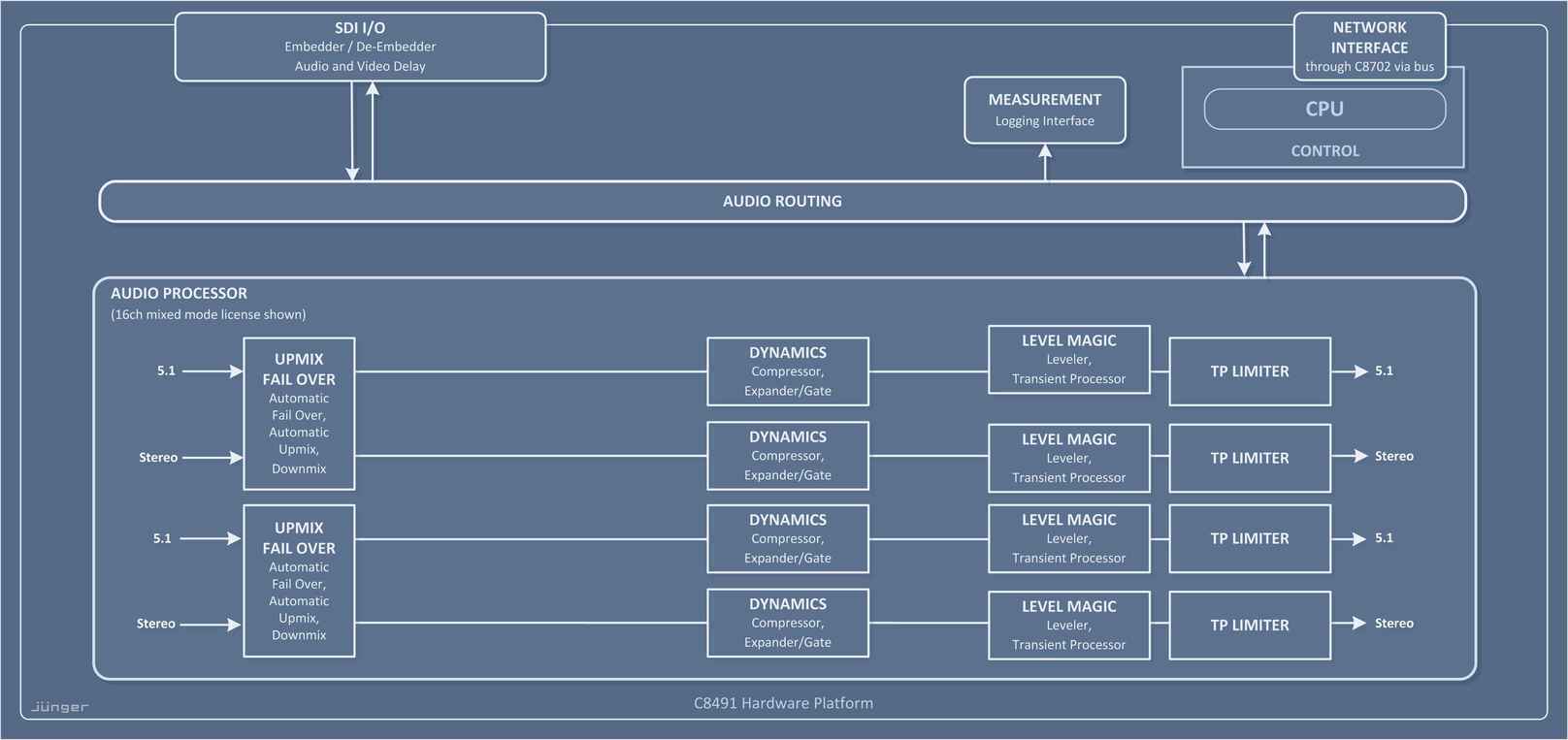 Key Features
SDI (3G/HD/SD) embedder and deembedder for 16 audio channels
Level Magic II™ loudness management for up to 16ch according to: ITU-BS.1770 (all revisions), EBU R128, ATSC A/85, ARIB TR-B32, Free TV OP-59 and Portaria 354
Stressless processing of unlocked SDI streams
Setup and configuration via web interface
More Features:
Surround upmix functionality
Dynamics with compressor and expander/gate
Power-fail bypass relays for SDI signal
Up to 4 modules in one 1RU frame
Up to 16 modules in one 3RU frame
Versions & Options
Upgrade to 8ch, (4x 2.0) audio processing
Upgrade to 16ch, (8x 2.0) audio processing
Upgrade to 8ch, (5.1+2.0) or (4x 2.0), mixed mode stereo and surround/upmix
Upgrade to 16ch, 2x [(5.1+2.0) or (4x 2.0)], mixed mode stereo and surround/upmix
Applications
All Jünger Loudness control devices from all product lines share a neat feature: The gathered measurement data is made available for downstream measurement applications via Ethernet. Learn more about at SOFTWARE APPLICATIONS.
Changelog 2.10.19.42350 (2017-08-31):

Changes 2.10.19.42350:

Fixed integration range issue in Log Analyzer

Changes 2.10.18.41937:

Fixed parameter inconsistencies occurred while network interruptions
Added support for C8492 PM5 and C8092 PM5
Added support for C8702 logger version 6

Changes 2.10.10.40638:

Added support for V*AP v2.0.1
Related Products
COMPACT 64

High Density System - COMPACT 64

19"/1RU frame, C8702 frame controller, C8817 GPI/O interface, 1x C8492 processing module (licensed for 4ch)
Scalable design for up to 64 audio channels in up to 4 SDI streams
Level Magic loudness management according to: ITU-R BS.1770 (all revisions), EBU R128, ATSC A/85, ARIB TR-B32, Free TV OP-59 and Portaria 354
Dynamics with downward compressor and expander/gate
Optional loudness logging software (J*AM)

product page

J*AM

Jünger Application Manager - J*AM

Manages free or license-based applications for connected devices
Loudness measurement according to: EBU R128, ITU BS.1770 (all versions), ATSC A/85 and ARIB TR-B32, Free TV OP-59 and Portaria 354
Real-time metering of processing parameters, including true peak measurement

product page

COMPACT 256

High Density System - COMPACT 256

19"/3RU frame, C8702 frame controller, C8817 GPI/O interface, 1x C8492 processing module (licensed for 4ch)
Scalable design for up to 256 audio channels in up to 16 SDI streams
Level Magic loudness management according to: ITU-R BS.1770 (all revisions), EBU R128, ATSC A/85, ARIB TR-B32, Free TV OP-59 and Portaria 354
Dynamics with downward compressor and expander/gate
Optional loudness logging software (J*AM)

product page