D*AP8 MAP EDITION Monitoring Audio Processor
This ground-breaking tool combines an audio monitor controller with network-enabled loudness measurement plus optional Dolby® real-time metadata emulation features in one unit. It provides comprehensive quality control and loudness monitoring for anyone working in a broadcast production, post-production or playout environment.
Targeting quality control (QC) of surround (5.1/7.1) or stereo programs, D*AP8 MAP EDITION is designed for live monitoring and compliance measurements according to loudness standards and regulations including ITU BS.1770 standards (revisions 1, 2 and 3) as well as recommended practices ATSC A/85 (2011/2013), ARIB TR-B32, Free TV OP-59, Portaria 354 and EBU R128.
Alongside loudness measurements, D*AP8 MAP EDITION also offers monitoring control features. It supports up to eight speakers to allow for A/B checking of stereo compatibility of a surround downmix through alternative speakers, as well as via L/R front speakers. A Dolby® production toolset allows for real-time Dolby® metadata emulation your audio stream and lets you simulate the listener's impression at home.
By incorporating up to two auto sensing 3G, HD or SD-SDI interfaces DAP8 MAP EDITION gives users access to 16 channels of SDI embedded audio. It is also possible to send deembedded programs to DAP8 MAP EDITION's AES outputs to feed a third party equipment. The D*AP8 MAP EDITION's SDI board can also be used as an embedder, and comes with video and audio delay to compensate any latency between audio and video.
To check compliance of programs with your local loudness regulations the unit analyzes loudness and true peak levels from input signals and transfers the measurement data via Ethernet to an optional measurement and logging software anywhere in your network. These measurements can be triggered by automation systems via GPIs, via network or even manually on the XAP RM1 remote panel. The DAP8 MAP EDITION may also generate SNMP or GPI/O alarms in case pre-determined limits are exceeded.
The optional Loudness Logger software allows for long term program logging and analysis.
All system parameters are remotely accessible allowing the unit to be integrated and remotely operated by broadcast control systems.
A web interface allows easy and intuitive setup and configuration anywhere in your network.
Interfaces and System Security
Audio I/Os range from on board AES I/O to optional 3G/HD/SD-SDI I/O including video delay and analog I/O. With redundant PSU and SNMP integration the unit ensures maximum operational safety.
Features
Top Features: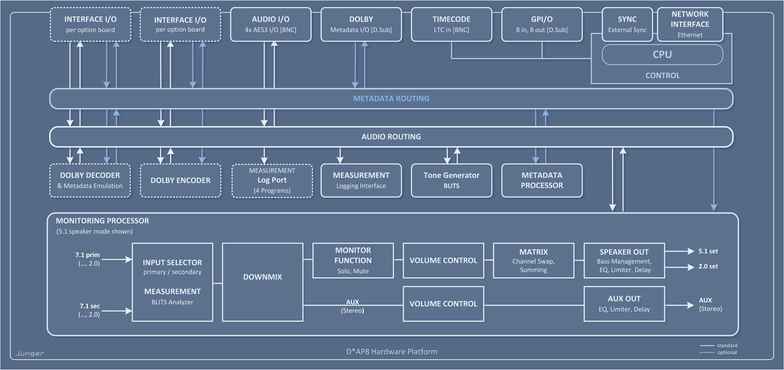 Loudness measurements according to: EBU R128, ITU.1770 (all versions), ATSC A/85 and ARIB TR-B32, Free TV OP-59 and Portaria 354
Multichannel monitoring control (up to 7.1)
Surround downmix functionality (optional Pro Logic II)
opt. Dolby® real-time metadata monitor, generator and processor
Network based logging of up to 4 programs
More Features:
Web interface for setup, configuration, presets
Status display on front panel
External control via network (Ember+) and GPI/Os
Digital I/O AES/EBU (BNC)
I/O modularity via 2 interface slots
Redundant PSU
Versions & Options
Option Board 8ch analog Out
Option Board 16ch SDI I/O (3G/HD/SD)
Option Board 4ch analog I/O
Option Board 8ch AES/EBU I/O
Option Board Dolby® D / D+ / E decoder incl. Dolby® metadata monitor, generator and processor
Option Board Dolby® D / D+ / AAC / HE-AAC encoder
Option Board Dolby® E encoder
Remote One - control panel
Optional Loudness Logging Tool
Applications
Replacement product for Dolby DP 570
Firmware
Changelog 2.2.1:

improved parameter trigger reaction speed (e.g. Dolby bitstream format)
improved routing matrix web GUI performance
improved Dolby metadata emulation latency reduced for PCM signals (selectable)
improved internal fallback sync is now indecated as a warning status
fixed Firefox 27 now fully supported
fixed preset routing matrix no longer corrupted by on air routings
fixed restoring presets no longer deletes unselected preset groups
fixed reboot now works flawlessly
fixed creating measurement events from existing events works as expected
fixed creating presets after restoring preset files no longer requires prior reboot