Streamtools TS - MPEG TS Audio Processor
With Streamtools TS, Jünger Audio is introducing its prestigious real-time audio processing to the world of MPEG transport stream processing. The system can process single and multi program streams, making it the ideal solution for automatic loudness management and sound processing in real-time broadcast and distribution environments. Streamtools TS with its integrated Level Magic ensures consistent loudness and standard compliance, even across audio streams from vastly different sources.
Streamtools TS offers the same renowned algorithms and audio quality as our hardware based systems, making it easy to achieve the same level of sound quality throughout all distribution channels.
Elementary Stream Processing
After setting up the basic network configuration, Streamtools TS is automatically analyzing the incoming transport stream and assigns the contained elementary streams to audio program processors. A program processor is an independent digital audio processor for one audio elementary stream. In a program processor, all dynamic range and loudness control as well as spectral processing and surround upmixing is performed. Program processors are compatible to any format from mono to 5.1. The channel format is determined by the input stream format, but can be changed with upmix or downmix stages. An easy to use web interface facilitates operation. Jünger Audio's smart algorithms adapt to any input signal and take care of optimal audio quality with any input condition.
Automatic Codec Assignment
For Streamtools TS, MP2, AAC and Dolby® D/D+ audio codecs are available. Each elementary stream assigned to a program processor is automatically decoded and encoded after processing. Depending on available licenses, the system automatically assigns codecs in the appropriate format. In standard operation each elementary stream is re-encoded in the source's format, however if a surround upmix process is activated, an available multichannel encoder is automatically assigned to the output. With this concept, almost no manual codec configuration is necessary.
Transport streams can be received and transmitted as unicast as well as multicast either via UDP or RTP/UDP. Streamtools TS is a transparent system that does not alter the transport stream format. DVB compatibility is fully preserved and all additional metadata such as subtitles or EPGs remain untouched by the process. Timecode information is automatically updated to compensate for any processing delays and assure sound-to-picture synchronization.
Just like all flexAI based products, Streamtools TS is fully scalable. The software application license enables transport stream analysis and basic operation. Additional licenses are necessary for elementary stream audio processing as well as decoding and encoding. A sample configuration for one audio elementary stream may look like this:
Decoder: MP2 – Program Processor: TS Master LM + Upmix – Encoder: Dolby® D+
Licensing based on audio elementary streams offers highest flexibility. Program processor licenses can be used for any source channel configuration from mono up to 5.1 surround. If the source channel configuration changes, the processor will automatically adapt to the new format.
Program processors are currently available in four configurations: TS Master Level Magic TS Master Level Magic + Spectral Signature TS Master Level Magic + Upmix TS Master Level Magic + Spectral Signature + Upmix Each program processor is equipped with basic input and output processing including gain, delay and high and low pass filtering. To find out more about Level Magic, Spectral Signature and Upmix, please visit our Algorithms page.
Streamtools TS is running on Jünger Audio's servAI range of audio processing servers. ServAI is currently available in three configurations. You do not need to pick the right server as our sales staff will assist you selecting the appropriate size and quantity according to your number of transport streams and audio processing needs.
Streamtools TS can be configured with dual modular redundancy. All backup software components offer identical functionality to their corresponding main license without the need for independent configuration. A mirrored backup system automatically obtains its configuration from the main system and does not need nor allow individual codec or audio program processing setup. In case of failure the backup system takes over and ensures uncompromised audio quality.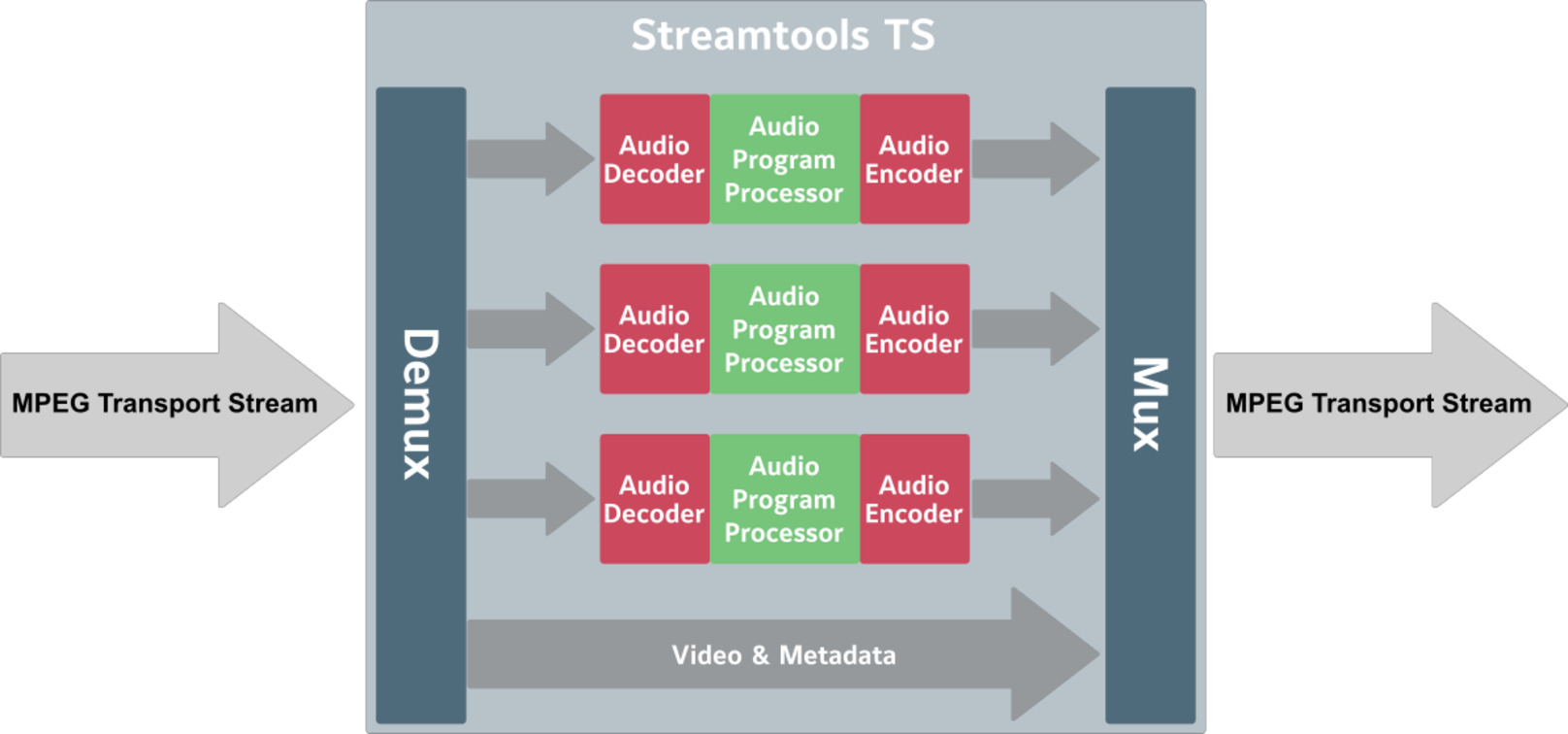 Key Features
MPEG TS audio processing
Single or multi program stream support
Level Magic loudness management according to: ITU-R BS.1770 (all revisions), EBU R128, ATSC A/85, ARIB TR-B32, Free TV OP-59 and Portaria 354
Available algorithms: Level Magic, Spectral Signature, Upmix
MP2, AAC and Dolby® D/D+ codecs
Channel configurations from mono to 5.1 surround
Related Products
flexAIserver

flexAIserver

Powerful x86 based server series
Industry proven reliability
Three different performance versions
AoIP, Ethernet, MADI or tieLight interfaces
flexAI audio infrastructure
Customized standard operating system

product page