Jünger Audio Makes Major Sales To The Russian Broadcast Market
Jünger Audio Makes Major Sales To The Russian Broadcast Market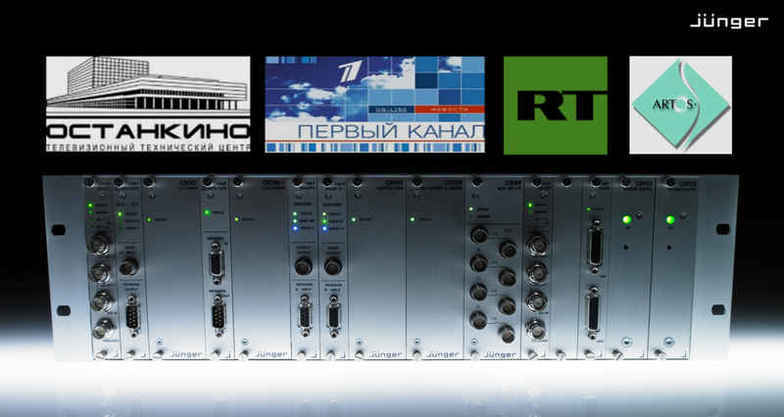 Berlin, Germany: Internationally renowned for its sophisticated audio processors, Jünger Audio has recently supplied stand-alone and frame-based loudness control systems to a number of key Russian broadcasters.
All Jünger Audio Loudness systems incorporate the company's proprietary LEVEL MAGIC™ adaptive control algorithm that complies with ITU, EBU and ATSC Loudness standards. LEVEL MAGIC™ is based on a simultaneous combination of an AGC, a Transient Processor for fast changes and a "look ahead" Peak Limiter for continuous unattended control of any programme material, regardless of its original source. Capable of using any kind of I/O (Analog and Digital) sources, as well as SDI, HD/SDI, Dolby 5.1 and all its related metadata, LEVEL MAGIC™ is available in a variety of configurations to suit different applications, including the frame-based C8000 audio loudness control system and Jünger Audio's new *AP family of stand-alone processors.
Among customers who have invested in the German manufacturer's technology are Moscow-based broadcasters Channel One and Russia's 24/7 English-language news channel RTTV HD. Other customers include Systems Integrator and distributor Artos TV and media centre TTC Ostankino, which hires out studios and equipment to the broadcast market.
Jünger Audio's Russian distribution partner OKNO has supplied Channel One with two frame-based LEVEL MAGIC™ C8000 systems, which are being used for ingest and playout in the broadcaster's automated broadcasting complex. The C8000 systems were chosen because they could simultaneously overcome two main issues – providing EBU R128 compliant loudness control and the transition from stereo to multichannel.Channel One's Igor Yadikin, says: "Jünger Audio's C8000 5.1 suite is unique and matches our television production specifications because it integrates perfectly with video equipment and because its modular nature allows it to offer a high level of reliability and flexibility."RTTV HD has also chosen Jünger Audio's C8000 and has made a significant investment in nine systems, all of which were supplied by OKNO. Once again, the ability to comply with international loudness recommendations was a key reason why Jünger Audio equipment was chosen.Alexander Kolosov, deputy director of RT's production complex, says: "Jünger Audio's LEVEL MAGIC™ algorithm provides a unique solution to the problem of loudness control and allows us to fully automate this process. We also felt that Jünger Audio's solution was able to deal with Dolby technology in a much better way than any other manufacturer's products."OKNO has also supplied TTC Ostankino with a TAP TV Audio Processor, an award winning stand-alone unit that is primarily designed for TV playout and provides Loudness control, Upmix and surround sound processing for up to eight channels of audio (8x1, 4x2, or 6+2). Meanwhile, Artos TV has taken delivery of two Jünger Audio DAP LM4 four-channel Digital Audio Processors, which were introduced last year to replace the company's hugely popular B46 processor.Although not intended for Loudness control, Jünger Audio's B40 four-channel digital audio toolbox is also proving popular with Russian customers. OKNO has supplied seven of these professional studio and broadcast devices to Russian state broadcaster VGTRK (ВГТРК), which is using them for simple audio processing tasks.Christoph Harm, Jünger Audio's International Sales Manager for Russia, says: "Since the break-up of the Soviet Union in 1991, there has been a proliferation in the number of television stations serving the Russian people. Today, there are more than 500 legitimate non-governmental stations, with at least one of these broadcasting to every major city as well as many smaller centres of population."In a country where the battle for viewers is now very competitive, providing a high quality level of service is paramount. Many Russian broadcasters are recognising that surprise changes in audio levels can be very annoying for viewers and can easily result in viewers switching channel. For this reason there has been increasing interest in our products, which are designed to prevent surprise level changes without having a detrimental effect on the overall sound quality."