Automated Studio Production Technology on show at NAB2015.
Jünger Audio to use NAB 2015 to showcase its range of Audio Processing Solutions.
Berlin, Germany:
For 25 years, Jünger Audio have specialised in the design and manufacture of advanced digital audio processors aimed at a diverse range of applications ranging from TV and radio broadcast and IPTV distribution, to music recording studios and post production facilities.
As the demand for more automation in the studio production environment has grown, and the expectation of interoperability with other manufacturers' equipment has increased, all Jünger products are compatible with the Ember+ control protocol to facilitate the most efficient workflows in audio production and distribution. The high performance of the processing algorithms and their adaptive control characteristic are the base for using them in system designs with highest grade of automation. Audio processing applications supported include: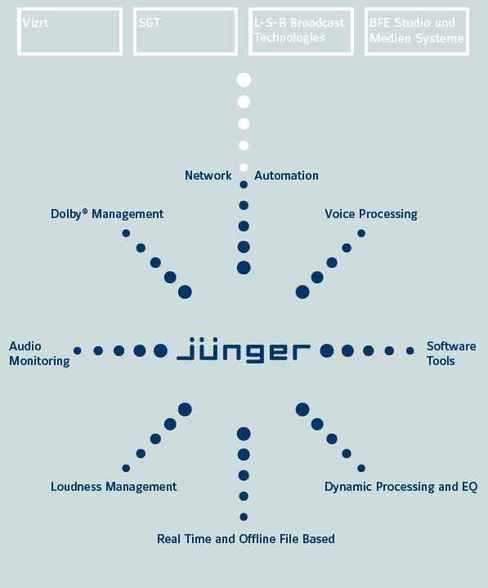 Voice Processing
Loudness Management
Multichannel Surround Upmix
Multichannel Audio Monitoring
Dolby Metadata Management and real-time Dolby Metadata Emulation
Dynamics Processing and Dynamic Sound Control
Real Time Stream Based, Online and Offline File Based
Managing Director Peter Pörs commented, "The way in which audio content is produced and distributed has changed greatly in recent times. There is a clear shift towards process automation and this has been reflected in the requests we have seen from the market. The adoption of Ember+ into our products has allowed us to provide full end-to-end audio solutions covering a wide range of processes all of which offer seamless integration into all major industry automation systems." He went on to add, "We have already supplied and installed several large systems into the German broadcast market which have resulted in greatly simplified audio production processes for our customers."
The full range of Jünger Audio processing products and solutions will be on demonstration at NAB 2015 on Stand C2333 at the Las Vegas Convention Center.