D*AP8 CODEC EDITION - Procesador Codificador/Decodificador de Audio
Este procesador codificador/decodificador de audio se desarrolló en conjunta cooperación con los Laboratorios Dolby® para reemplazar hardware de codificación y decodificación obsoleto de Dolby®. Proporciona todas las herramientas necesarias para manejar audio comprimido y metadatos en una unidad modular y completamente customizable. Proporciona diferentes formatos de E/S entro los que destacan audio nativo AES, SDI, MADI Dante y analógico.
El procesador D*AP8 CODEC EDITION fundamentalmene usado como codificador/decodificador viene usado en todas aquellas areas del broadcast donde sea necesaria la codificación, decodificación, transcoding Dolby® o bien emulación de metadatos en tiempo real.
El D*AP8 CODEC EDITION ofrece procesamiento de ocho canales de audio E/S (4x2.0 o 5.1+2.0) e incluye una tarjeta para la decodificación Dolby® con gestión y emulación de metadatos en modo estándar. La codificación en Dolby® es opcional. encoding is also available. Además incluye opción de metering del loudness via red y Voice Over por defecto mientras que las funcionalidades de logging, Upmix y Fail Over son opcionales.
El decodificador Dolby® incluído en el D*AP8 CODEC EDITION proporciona decodificación en Dolby® de los siguientes formatos:
• Dolby® E • Dolby® Digital Plus • Dolby® Digital • Pro Logic II (decodificador y codificador)
Codificadores Dolby® opcionales::
• Dolby® E
o
• Dolby® Digital Plus • Dolby® Digital • AAC, HE-AAC v1/2
Emulación y gestión de Metadatos
En adición a la decodificación, la gestión y emulación de metadatos se ofrece como funcionalidad estándar. La configuración de parámetros del tipo Dialnorm, Downmix y DRC es crítica para asegurar un funcionamiento correcto del decodificador del usuario final. La emulación permite que distintos parámetros puedan ajustarse o verificarse en tiempo real para asegurar que el audio que llega al usuario final se reproduzca correctamente y en modo apropiado.
Loudness Metering y Logging
Para cumplir con la regulaciones locales, se pueden medir el loudness y los niveles de true peak con el software opcional J*AM. All current loudness standards are supported including ITU-R BS.1770 (1, 2, 3) and recommended practices ATSC A/85, ARIB TR-B32, Free TV OP-59, Portaria 354 and EBU R128. A real-time plot of input levels can be displayed and logged to a destination folder anywhere on the network.
Upmix/Fail Over/Voice Over/Limiting
La funcionalidad de Voice over está incluída para permitir una integración de tipo seamless de la voz y el contenido del programa con mezclado o ducking automático. Otras funcionalidades opcionales con licencia son el Upmix para crear audio surround 5.1 desde un audio nativo estéreo y Fail Over que permite el switching automático a una señal de back up en el caso de que la primaria se pierda. Un limitador del tipo True peak está siempre incluído.
Una interfaz web permite el setup y configuración de modo fácil e intuitivo desde cualquier parte de la red. La mayor parte de parámetros se basan en el principio de "set and forget" (configurar y olvidarse) por lo que sólo después de un pequeño número de settings iniciales la unidad ya puede utilizarse on-air en pocos minutos.
Capacidad de Integración en Sistemas
Todos los parámetros del sistema se pueden acceder remotamente lo que permite que la unidad pueda ser integrada y remotamente operada por sistemas broadcast de control o sistemas de management de estudios. Por ejemplo a través de las tecals hot-keys del panel remoto X*AP RM1, a través de los 8 GPI/Os integrados o a través de comandos de red usando el protocolo de control Ember+™. Esto hace que se puedan asignar configuraciones individuales a cada usuario y activarlas instantánemente en un momento posterior.
El X*AP RM1 proporciona todas las características necesarias para controlar hasta cuatro unidades a través de unidades hardware remotas de control.
Interfaces y Seguridad del Sistema
Un rango de E/S de Audio desde tarjetas de E/S AES a E/S opcionales 3G/HD/SD-SDI I/O incluyendo retardo de video y E/S analógicas, MADI, Dante™ audio over IP e interfaces de preamplificación de micrófono opcionales para micrófonos analógicos o digitales permiten una perfecta integración en el entorno del estudio.
Con la fuentes de alimentación redundantes y la integración a través de SNMP la unidad ofrece la máxima seguridad operacional posible a día de hoy en instalaciones de radio y TV o de producción de audio en modo 24/7.

Características
Características principales: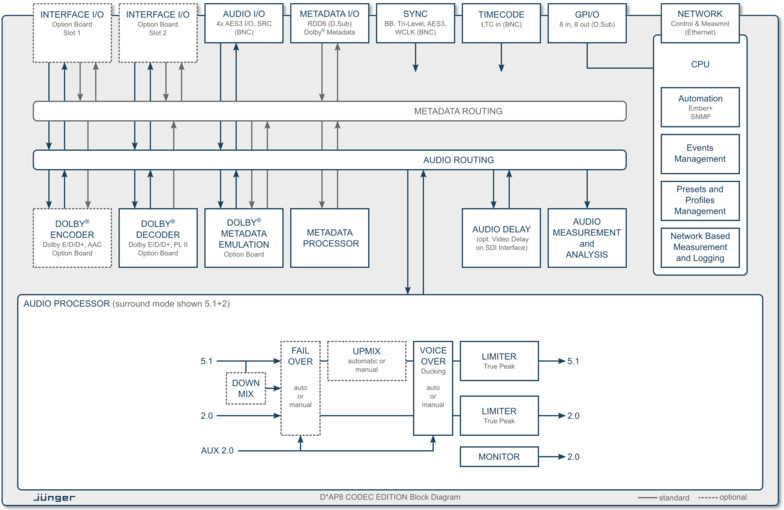 Multicanal / Procesamiento de audio multiformato
Decodificación en formatos Dolby® Digital Plus, Dolby® Digital, Dolby® E, Pro Logic II
Generación, procesamiento y emulación de metadatos Dolby®
Opcional codificación en formatos Dolby® Digital Plus, Dolby® Digital, Dolby® E, AAC, HE-AAC v1/2
Dolby® Dialog IntelligenceTM
Medida del Loudness siguiendo todos los estándares existentes
Limitador del tipo True peak
Funcionalidad Downmix (incl. Pro Logic II)
Funcionalidad Voice Over
Opcional Upmix y funcionalidad Fail Over
Modularidad E/S a través de dos slots adicionales
Conectividad Ethernet opara configuración y control a través de web browser
Control externo a través de red o GPI/O's
19", dispositivo 1RU, PSU redundante
Versiones & Opciones
D*AP8 CODEC EDITION: Unidad base D*AP8 más funcionalidad CODEC
X*AP RM1: hardware de control remoto conectado a través de Ethernet
Tarjeta Opcional 16ch SDI I/O (3G/HD/SD)
Tarjeta Opcional 4ch analógicos E/S
Tarjeta Opcional 8ch analógicos Salida
Tarjeta Opcional 8ch AES/EBU E/S
Tarjeta Opcional 16ch Dante Audio over IP
Tarjeta Opcional 16ch MADI E/S
Tarjeta Opcional codificador Dolby® D / D+ / AAC / HE-AAC
Tarjeta Opcional codificador Dolby® E
Licencia Fail Over y Upmix 5.1 Automático
J*AM Application Manager para metering en tiempo real
Loudness Logger para almacenamiento de datos para posterior análisis
Aplicaciones
Todos los dispositivos de control y gestión del loudness de Jünger de todas las líenas de productos comparten una caracterísitica única: los datos almacenados están disponibles para su posterior análisis a través de la red. Aprenda más en el apartado SOFTWARE TOOLS.
Changelog 2.10.9.39391 (2017-03-24):

Added new Loudness Meter
Added numeric adjustable loudness integration range for Analyzer
Fixed Log Port renaming update
Fixed performance issue
Improved stability
Firmware
Changelog 5.1.0 (2017-03-17):

Firmware for D*AP8 FLX, TAP EDITION and CODEC EDITION

Changes 5.1.2:

fixed (Backup/Restore) coprocessor, watermarking and measurement were missing in preset restore filter list

Changes 5.1.0:

new feature (Dante) Dante firmware version updated - device is now prepared for AES67 mode operation
new feature (Audio) Spectral Signature can now be set to manual freeze to stop it from reacting on unwanted audio signals or make use of it as a static equalizer
new feature (XAP) automatically reconnects after network drop out or power down (XAP firmware update required!)
new feature (XAP) automatic IP-conflict detection and warning (XAP firmware update required!)
new feature (Web UI) Dante locked status and AES67 mode shown on Dante interface status page
new feature (DOLBY) Cat1100 firmware 3.0.0.0 supported
improved (Web UI) routing matrix scaling permanently enabled
improved (Web UI) X*AP enable checkboxes greyed out for Remote Hotkeys greater than eight
fixed (JDSPA) system is no longer trying to fetch parameters from JDSPA if only the bootloader and no firmware is present
fixed (Web UI) integrated output loudness was not shown in measurement
fixed (Web UI) time and date are no longer restored from backup file
fixed (Web UI) issue when setting crosspoints in Google Chrome

Changes 5.0.3 r3:

added factory default presets file to firmware package please see enclosed 'how to' guide for restore instructions

Changes 5.0.3 r2:

added new manual to zip file

Changes 5.0.3:

new feature (Audio) added Fail Return time to Surround Detector in Upmix

new feature (Audio) Fail Over Wait and Return times increased to a maximum of 120 seconds

improved (Firmware) stability after firmware update process
fixed (Audio) problem with surround detection in Upmix
fixed (Audio) problem with failover feeding the Upmix
fixed (Web UI) minor glitches when minimizing On Air windows
fixed (System) gateway setting is no longer reset on restore factory defaults if IP reset is deselected

Changes: 5.0.2:

fixed (Web UI) problem when switching between Spectral Signature tab and other browser tabs

Changes 5.0.1:

new feature (Audio) FM Conditioner with four independent stereo programs is now available for D*AP8 (JDSPA-Coprocessor hardware option board and license required)
new feature (Watermarking) GfK Watermarking encoder is now available (JDSPA-Coprocessor hardware option board and license required)
new feature (Audio) Level Magic is now equipped with a response boost function that temporarily increases its reaction to incoming high level signals - please refer to the manual for details
new feature (Audio) Level Magics initial response to already normalized audio material was significantly improved
new feature (Audio) Level Magic is now equipped with an automatic Clear Processing History function that resets the system on long periods of disrupted audio. Please note, Below Threshold Mode needs to be set to Release
new feature (Mobile UI) configurable button matrix (please see Mobile UI side menu)

new feature (System) the real time clock can now be synchronized to NTP time servers

improved (Web UI) added comment to latency compensation setup
fixed (System) occasionally empty system log
fixed (Measurement) peak hold problem in aux and monitor meter
fixed (Web UI) changed routing matrix naming from Sub to LFE
fixed (Web UI) minor handling issues in remote hotkey list
fixed (Web UI) display issue in bypass events in case of short program names
fixed (Web UI) text in quotation marks are no longer deleted at Trigger Equations page
fixed (Backend) unnecessary device reboot in rare cases when loading web UI in several browsers at the same time